For Cummins, they make many different engine models. Every one of those models, with have different configurations based on if they were going into a school bus, bulldozer, or in our case, a emissions compliant road vehicle.
As such, Cummins needed a way to keep track of the various configurations. This is important as although a 5.9 B series is a 5.9 B series, there will be slightly different parts and timing parameters depending on use.
So to keep all making sense, Cummins uses something called a CPL number to keep track of these changes. CPL stands for Control Parts List, and if looked up in the Cummins parts system, will show every part in your engine, including your factory timing specification. It will also have your engine serial number, date of manufacture, firing order, and many other things specific to your engine.
The CPL info will be found on the engine ID tag. The tag on the engine will be found on the drivers side of the engine, just in front of the injection pump, on the side of the timing case.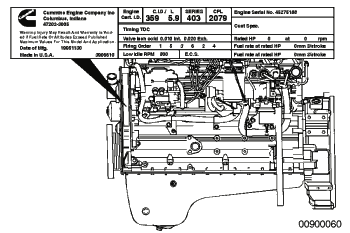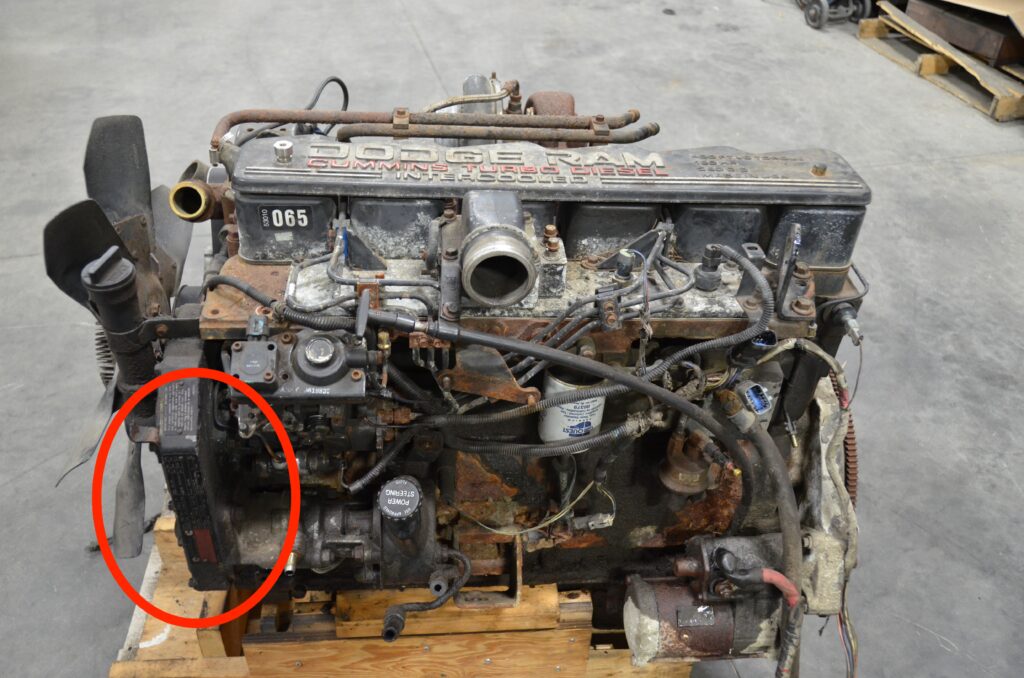 This is what a typical ID tag will look like: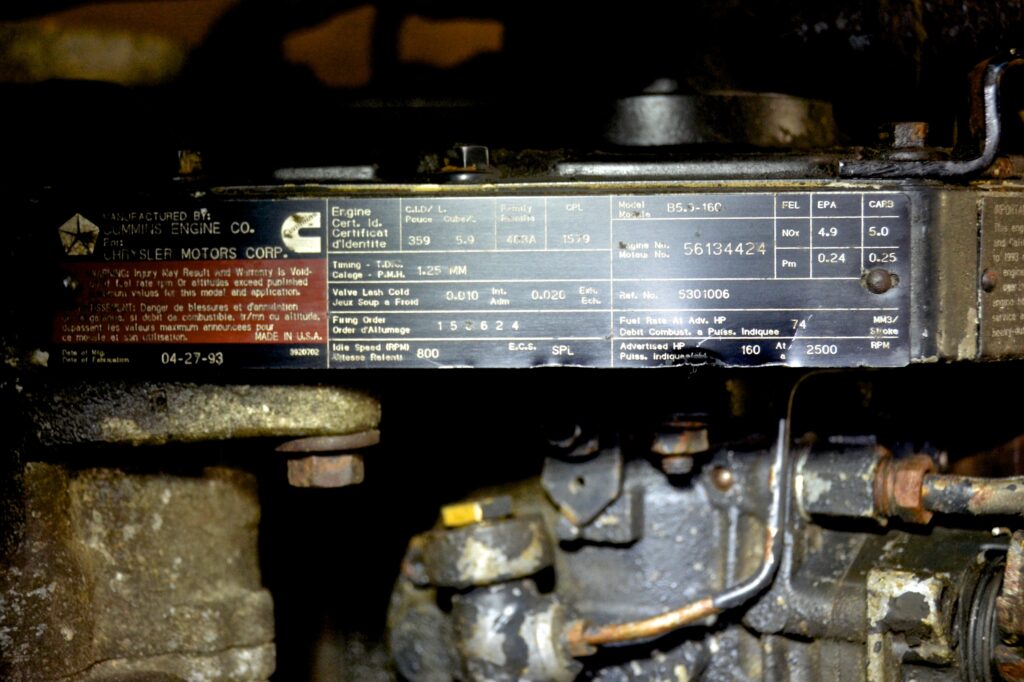 1st Gen Rams used three different engines over the 1989-1993 production run. They are as followed:

The following information was put together by the Turbo Diesel Register many years ago after some digging through Cummins records. These are the serial number ranges that the 1st Gen Rams fall into:
Known production range (there may be others):
CPL 804 serial number range: 44325085 through 44547226, Build dates: 23 Oct 1987 through 31 Dec1990.
CPL 1351 serial number range: 44577090 through 44689145, Build dates: 06 Feb 1991 through 14 Nov 1991
CPL 1579 serial number range: 44815853 through ??????, Build dates: 01 Dec 1992 through ?????
The change from CPL 0804 to 1351
Many believe that the change from non intercooled to intercooled was simply adding a charge air cooler (CAC) and that was it. The reality is, there was more changes than not, done to the engines to meet the EPA's 1991 emissions standards than just adding a CAC.
Improvements to meet Jan 1, 1991 EPA standards
Charge Air Cooling – reduces the intake air temp to 120 degrees F and reduces NOx.
Turbocharger boost reduced to control NOx
Turbine housing increased from 18 to 21 sq cm
Head Casting improvements – to improve fuel combustion and reduce PM
Intake ports modified to increase intake swirl to a factor of 3.5
Injector bore diameter reduced from 9 mm to 7 mm
Piston bowl geometry modified to enhance intake swirl
Larger piston pin bearing area – increased to handle increased cylinder pressure
Piston to piston pin and piston pin to connecting rod bearing tolerances tightened
Torque plate cylinder honing used to control oil consumption, PM, and HC emissions
Piston top compression ring finished with a lapped surface
3 grades of pistons used to mate the piston to each bore
Injector bores reduced from 9 mm to 7 mm and fuel pressure increased
By reducing the injector size and increasing injection pressure, it raised the combustion pressure which required:
Improved cylinder head bolts and head bolt torque procedures

Three lengths of bolts
Increased thread length

Improved head gasket with more metal banding, and a thicker crush ring around the cylinder
New piston cooling nozzles with a larger diameter and longer length for improved piston cooling
16% more flow from the oil pump to feed the piston cooling nozzles
Larger oil cooler Oil pressure regulator and spring replaced to improve oil pressure regulation
1992 .5 engine changes
Due to sluggish engines with the large 21 cm turbo housing requiring longer spool up times and being a bit too big to fully spool, the turbine housing reduced to 18 sq cm to answer complaints of low power.
Engine Specs
The following are the basic specs for the 5.9 B series engines used in the Gen 1 Ram trucks:
| | |
| --- | --- |
| Cummins Name | 6BT5.9 |
| Years of Gen 1 Dodge Use | 1988-1993 (model years 1989-1993) |
| Fuel Injection Pump | Bosch Rotary VE Pump |
| Engine Displacement | 5.9L/359 cu in |
| Configuration | Inline 6 cyliners, 4 stroke |
| Bore and stroke | 4.02″ x 4.72″ |
| Block Material | Cast Iron |
| Head Material | Cast Iron |
| Firing Order | 1-5-3-6-2-4 |
| Valves | 2 Valve per cyl/12 Valve |
| Turbo | Holset H1C |
| Housing sizes used | 18 and 21 sq cm |
| Max RPM | 2500 rpm |
| Weight | Approx 980 lbs |